Cal Orey is an accomplished author and journalist who holds a master's degree in English (Creative Writing) from San Francisco State University. Over the past 15 years, she has written hundreds of health-related articles for national magazines and websites, specializing in topics as diverse as health, nutrition, and sexual health. Her articles have appeared in The Writer, Woman's World, Woman's Day, Men's Fitness, Let's Live, as well as Complete Woman, for which she is a contributing editor. Ms. Orey is also the author of the best-selling book The Healing Powers of Vinegar, and Doctors' Order: What 101 Doctors Do to Stay Healthy. Get her new book:

The Man Who Predicts Earthquakes.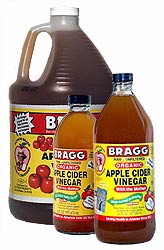 The Best Olive Oils and Vinegars - Bragg Products - America's Health Pioneers Since 1912! Bragg Organic Apple Cider Vinegar, Bragg Organic Olive Oil, and more! Bragg Organic Apple Cider Vinegar Organic, "With The Mother" Raw - Unfiltered - Aged in Wood. Made from whole organic apples, aged in wood, Bragg's Apple Cider Vinegar is raw, unfiltered, undiluted and contains no preservatives! Hippocrates, the Father of Medicine, in 400 BC treated his patients with natural apple cider vinegar for it's powerful cleansing, healing and germ fighting qualities. Available in 16 oz. and 32 oz. glass bottles & 1 gallon jugs.